About Us
Charvi Arts was established in 2015 to cater various untouched services in the field of Fine Arts and Crafts in India. It's aimed to create group of amateur and established artists to work on various new-age needs of emerging Indian Arts & Crafts market. Paralally offering framework to monitize Designing, Painting, Studio Crafts, Digitization, Printing, Restoration and related services.
Charvi Arts promotes excellent art and crafts, that will always be recognised and appreciated sooner or later. We bring you contemporary & Indian art, and give easy access to today-age crafts. This is the space where you can find works of masters, paintings, crafts, prints and sculptures of artists who have tremendous creative talent. Further to these objectives of promoting Indian Art and to keep the long term interest of all stakeholders in perspective we provide following Classified Services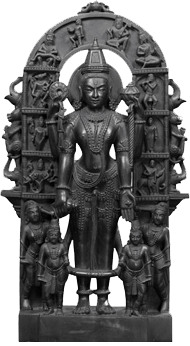 Imagination is useless unless it changes behaviours!
Imagination is an exploration of what is beyond visual reach of the naked eye. Every day we glance around us processing millions of snapshots that are combined in our minds to create the world around us. Rarely do we get a chance to take a step back and really take a look at what we are seeing. The amount of detail in every object is immense and something that you can immerse yourself in, even for only a split second. These images awaken our imagination by relating everyday objects and allow each person to create their own interpretation of what they are seeing.
Visual Arts Services
Graphic Design
We develop designs that are contemporary, effective and robust. We manage the entire lifecycle of our design projects - concept development, design, estimating, proofing, vendor management and delivery. Accuracy, expert color management and attention to detail are all part of our daily practice. We specifically work with the client's budget - consulting with select vendors to optimize efficiency.
Sketching, Drawing & Painting
We enjoy exploring fascinating regions of the world through the sketching, drawing and paintings. Our favourite categories include landscapes, folk arts, cubist paintings, portraits etc.
Studio Crafts
We design and offer wood, fabric, paper and multi-medium craft items. Specially designed as per your specifications and requirements. We also offer pre-designed gift items for your near and dear ones so that your gift becomes a lot more meaningful and unique!
Professional Services
Hire an Artist
Tell us which are your favourite painting techniques and let us match you with the perfect artist for your project. From a mural painting, to the best wall art ideas for your office or a live painting session for your party. The ideas are almost endless. Tell us what you're looking for and we can take care of the rest!
Limited Edition Prints
We provide ready-to-hang limited edition prints of select creations. These art prints are from well known & emerging artists, featuring a variety of subjects and styles. Whether you are moving into your first home or updating your décor for a stylish modern look, limited edition prints are sure to set your space apart.
Restoration
We work on paintings, photographs, paper, wood and craft items restoration assignments. We belive in restoring items by utilizing best practices to see our clients are satisfied end-to-end.
IT & Digital Services
Web Design & Development
The websites we design are contemporary, responsive, and open-source; that are flexible and capable of continuous evolution. Along with this we have in-house expertise to design and develop web applications, ranging from simple CMS & e-commerce to clustered web solutions. We also provide & manage hosting infrastructure and security, DNS, SEO, email and SSL certificates.
Scanning & Digitisation
We help converting your photo documents into digital formats that can be preserved for a lifetime. Be it any kind of data or document - right from audio, texts, video, images, business cards, periodicals to books - it can be easily digitized and converted into any required format that can be transferred over any media.
Scope of Services
Conservation and Restoration of Art and Craft items
Insurance for Art and Craft items
Bye & Sell Collectables
Document scanning & digitization
Pramote and Hire an Artist
Design & development of websites & e-commerce portals
Web application UI/UX design & development
Art & Craft Packing and Transportation
Digital Painting
Multimedia Crafts and Miniatures
Classified printing services
Sculpture
SCOPE OF SERVICES
-- Collaborate with clients to establish preferences and objectives for their unique art needs.
-- Define and design creative solutions to fulfill needs.
-- Establish timeline and budget to execute solutions.
-- Define strategy and integrate art with design to maximize the impact of art.
-- Coordinate with professionals to create the ideal design team for each project.
-- Incorporate existing artwork from the collection.
-- Commission need-specific artwork.
-- Provide comprehensive insurance for each project. (if approved)
-- Coordinate transport of artwork.
-- Installation and handling of artwork.
-- Establish maintanence plans, and, if needed, execution of plan.
-- Provide continued support and enhancement of the collection/installation.